Dr. Kristi Siegel
Literature and the Workplace, English 285 (accelerated)
Fall 1999, Term 1 (Aug. 18 to Oct. 13)
Wednesdays - 6:00-9:50pm
Office and office hours: Fidelis 223, 4-6:00pm Wednesdays and by appointment
Phone: 258-4810, ext. 461
e-mail: siegelkr@mtmary.edu or kristisiegel@hotmail.com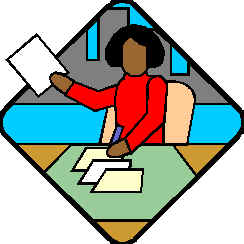 Work is love made visible. And if you cannot work with love but only with distaste, it is better that you should leave your work and sit at the gate of of the temple and take alms of those who work with joy . . .
--Kahlil Gibran, The Prophet
Course Description
Literature and the Workplace will explore how literature relates to business and/or one's career. Selections from drama, short stories, novels, poetry, music, and movies will serve as a basis to examine central issues in commerce, e.g., interpersonal relationships, the ethic of business, definitions of success, and what we see as the "American Dream."
Required Texts and Materials
Literature: Reading, Reacting, Writing. Ed. Kirzner, Laurie and Stephen Mandell. New York: HBJ, 1997.
Fried Green Tomatoes at the Whistle-Stop Cafe. New York: Fawcett Books, 1997.
Course Objectives

to appreciate how literature relates to everyday workplace or business dynamics;
to consider how men and women--and women and women--relate in the workplace;
to examine definitions of success in light of our concept of the "American Dream";
to respond articulately to literature through discussion, writing, and oral presentation.
Course Policies and Assignments
Policies - Given the accelerated format of the course, no absences will be accepted without prior arrangements. It will be the responsbility of the student to acquire any work or material missed.
Assignments:

One essay (about three double-spaced pages, typed) due on Week 5 treating one or more of the assigned topics or readings.
Prepared discussion questions on one of the readings (this assignment will be explained in class).
One oral presentation on a poem or a short story.
Completion of the final exam.
Incredibly good, articulate, and enthusiastic participation in class discussions. :)
From Nine to Five: Literature and the Workplace
Syllabus
Unit I - (Weeks 1-3) Men are from Mars, Women are from Venus
What does literature have to tell us about the relationships between men and women?
How do men and women relate in the workplace?
8/18 Week 1
Introduction to course and to each other.
Discussion of syllabus, assignments, and course expectations.
Lecture and Discussion: "The Good, the Bad, and the Ugly: How Have Women Been Depicted in Literature and Culture?"
Readings:

"White Tigers" - excerpt from A Woman Warrior by Maxine Hong Kingston
"Why It's Great to be a Guy" - e-mail excerpt

Movie Clips:

Women and Work - documentary
Sleeping Beauty (Disney version - 1959)
Cinderella (Disney version - 1950)
Short Stories

"Company of Wolves" - Angela Carter (handout)
"The Catbird Seat" - James Thurber, pp. 562-568
Drama

Trifles - Susan Glaspell, pp. 1172-1182
Poetry

"Cinderella" - Anne Sexton, pp. 699-702
Audio Clips

"Hey There, Little Red Riding Hood" - Sam the Sham (1960s)
"Where Have all the Cowboys Gone?" - Paula Cole (1990s)
Short Stories

"Like a Winding Sheet" - Ann Petry, pp. 117-123
"Seventeen Syllables" - Hisaye Yamamato, pp. 369-368

Poetry

"The Faithful Wife" - Barbara Greenberg
"Women" - May Swenson, p. 858

Movie Clip and Review

"Review of Norma Rae"
Clip from Norma Rae
Unit II (Weeks 4 & 5) Working Girl or Baby Boom: Women and Work
How do women relate to one another in the workplace?
How have "career" women been depicted?
Critical Theory

Excerpts from Women's Autobiographies, Culture, Feminism - Kristi Siegel (handout)
Short Stories

"Rape Fantasies" - Margaret Atwood, pp. 390-396
"Last September" - Helen Hull (handout)
Poetry

"The Secretary Chant" - Marge Piercy
"Sadie and Maud" - Gwendolyn Brooks
Movie Clips

Working Girl (1988)
Baby Boom (1987)
Fried-Green Tomatoes at the Whistle Stop Cafe - Fannie Flagg
Fried-Green Tomatoes at the Whistle Stop Cafe (1991)
Unit III (Weeks 6 & 7) The American Dream, The American Nightmare
What does literature tell use about the American Dream (or materialistic dreams in general)?
What is your definition of success?
Short Stories

"Once Upon a Time" - Nadine Gordimer, pp. 74-78
"A & P" - John Updike, pp. 105-109
"Two Kinds" - Amy Tan, pp. 562-
Poetry

"Dream Deferred" - Langston Hughes
"For a Lady I Know" - Countee Cullen, p. 911
"The World is Too Much With Us" - William Wordsworth, p. 689
"Sisters in the Flames" - Carol Tarlen
Review of Wall Street - Roger Ebert
Wall Street (1987)
Drama

Death of a Salesman - Arthur Miller, pp. 1458-1532
Another Antigone - A. R. Gurney, pp. 1741-1784

Death of a Salesman (Dustin Hoffman version - TV, 1985)
10/6 Week 8 - Summing Up
Discussion and Final Exam